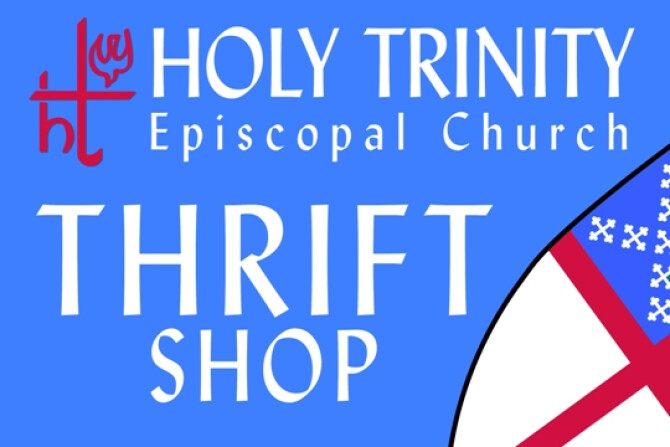 The Thrift Shop IS open!
COME ON IN!
Days/Hours: Tuesday - Friday, 10:00am - 4:00pm; Saturday, 10:00am - 3:00pm
Phone: 321-727-2797
Thrift Shop Manager: Stephanie Dalhberg. Click HERE to e-mail Stephanie.
Social Media: Check out our Facebook page

The shop provides a remarkable outreach to our parish, our community, the diocese, and beyond. All items are donated and include not only clothing, but bedding, dishes, lamps, books, luggage, furniture, jewelry, small household appliances, baby items and much more. Clothing not sold after 90 days is donated to service agencies within our community.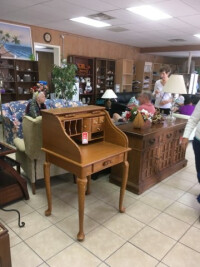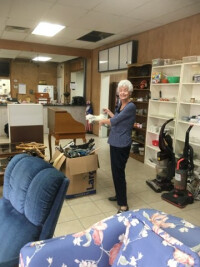 You can help by donating items to the shop either in the bin located in the Gallery next to the Parish Hall, or directly to the Thrift Shop. Large items such as furniture can be picked up from your home. Volunteers are needed to staff the shop. The shop is open Tuesday through Saturday, and the volunteer shifts are from 10:00am to 1:00pm and 1:00pm to 4:00pm. Volunteers are also needed at other times for cleaning, straightening, marking new merchandise, etc. Volunteers work in teams. You can work once a month or more often. No experience is needed; just a willing heart and a desire to help others. Contact Thrift Shop Manager, Stephanie Dahlberg, if you're interested in volunteering, or if you have any questions.
PLEASE NOTE THAT WE CANNOT ACCEPT THE FOLLOWING ITEMS:
Items that are stained, soiled or in need of repair

Cell phones and electronics. We DO take flat screen TVs

Anything that has been recalled or poses a safety hazard, such as cribs, high chairs, car seats, etc.

Large appliances, such as stoves, refrigerators, washers, dryers

Bathroom fixtures

Unframed mirrors or glass

Entertainment centers

Prescription glasses

Pianos and organs

Best Buy recycles electronics and cell phones. Lens Crafters recycles glasses.
If you have a question about an item you'd like to donate, please call the shop ahead of time.
The proceeds from the Thrift Shop sales benefit many different outreach projects throughout the church and in the community.