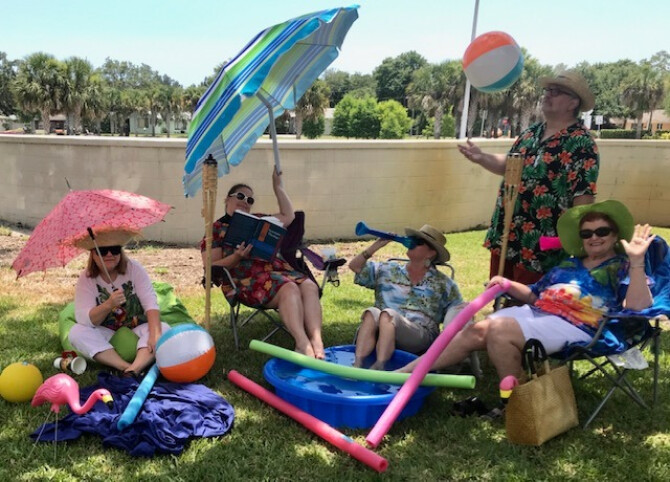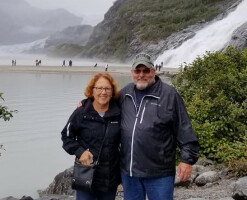 Fr. Dave was raised as an Air Force dependent, served five years in the Air Force, graduated from Arizona State University, spent 16 years in the corporate world, and was ordained 40 years later after he told God when I was 9 years old he wanted to be a minister for Him. He has been married to his wife Tillie for 23 years and they have a blended family of 7 children and 10 grandchildren. He retired recently after serving 13 wonderful years at St Elizabeth's in Sebastian.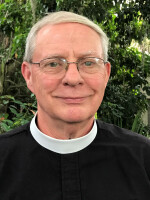 Fr. Bob Bruckart was ordained to the Episcopal Priesthood in 1979 at Trinity Cathedral, Pittsburgh. He immediately assumed a two-point charge at St. Paul's Episcopal Church, Monongahela and St. John's Episcopal Church, Donora in the Diocese of Pittsburgh. In 1984, Bob was invited to join the staff of Holy Trinity Episcopal Church, Melbourne with Fr. Bill Lewis. During this time, Bob served on the National Episcopal Cursillo Commission (NECC).
In 1995, Bob began his chaplaincy work as the Director of Pastoral Care for Holmes Regional Medical Center and Palm Bay Hospital. In 2007 he became Director of Pastoral Care for Health First, retiring after 26 years this past January, 2022. During that time Bob served on the Board of Directors of Hospice of Health First and chaired the HRMC/PBH Biomedical Ethics Committee.
Bob holds a Doctorate of Philosophy from Maimonides University. Winter Park (2003), a Masters of Counseling from Webster University, St. Louis (1998) and a Master of Divinity from Seabury-Western Theological Seminary, Evanston (1979). Additionally, Bob is a Licensed Mental Health Counselor in the State of Florida (MH6496).
Bob is married to Deborah and they have three sons - Benjamin, Robert and Christopher - five grandchildren and assorted chickens and cats about the house.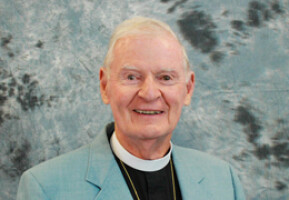 The Rev. William G. Lewis
Rector Emeritus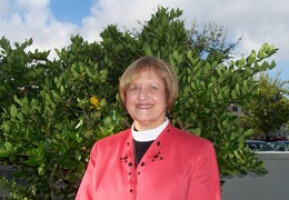 The Rev. Stacey Westphal
Faith Community Nurse, Deacon
Deacon Stacey spent the first half of her life traveling with her family. She was baptized in an Episcopal Church in Montreal, Canada and confirmed in Hawaii in the Church of the Epiphany. She started first grade in France and graduated high school in Germany. She came to Florida after graduating nursing school. As a member of Holy Trinity since the 80's, she has served as an Acolyte, a Lay Eucharistic Minister and a Lay Eucharistic Visitor. Stacey was ordained as a Deacon in 2006.
Stacey retired from nursing after working for over 40 years. Her nursing career started in the Emergency Department at Brevard Hospital, and volunteering for Melbourne's volunteer ambulance service. She has worked in many different areas of nursing including Infection Control, Health First Stroke Coordinator, and most recently as a Professional Development Specialist at the Health First Center for Learning. Her passion has always been a ministry to the elderly.
As the Holy Trinity Faith Community Nurse, Deacon Stacey visits, listens and supports parishioners; educates the congregation on health issues; raises awareness of health risks; prays for healing; connects people to community resources; and works with Holy Trinity's Health Ministry Team to develop programs.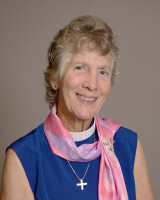 The Rev. Christine Croskey
Deacon
Born in Bryn Mawr PA and baptized in the Episcopal Church, Christine grew up on the Jersey coast and became a Board Certified Nurse Anesthetist (CRNA) in 1974. She joined the USAF in 1985 lived in Germany for 6 years and was stationed at Patrick AFB from 1992-1995. She retired from the USAF in 2005 and moved back to Indian Harbour Beach in 2005. She retired from anesthesia in 2016. Her son, Aaron is an active duty Marine who has blessed Christine with two grandchildren; and her daughter, Rebecca is an ICU nurse who just married in 2020. Christine was Ordained in 2016 by Bishop Brewer and has served in several churches in the area. An avid nature lover, her favorite hobby is SCUBA diving. Christine married Brian Nemeth in 2005 and gained four more children and eight more grandchildren.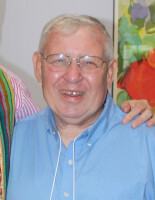 The Rev. Tom Williams
Deacon
Florida is a melting pot, most of us are from someplace else. I moved here from a small upstate New York community in 2009 after my wife passed away. We had been snowbirds and I attended Church of Our Savior in Palm Bay. I served as deacon there from 2009 thru 2021.
I retired as a health and physical education teacher in 2002 with 31 years of service. I was ordained on December 13, 1986. I have served in several parishes and have been a hospital and hospice chaplain.
My wife Nancy and I live in Palm Bay and enjoy the area. I have a son in Washington D.C., a daughter in Seneca Falls, and two grandchildren. My passions in life are the New York Giants and playing golf.
I look forward to assisting at Holy Trinity.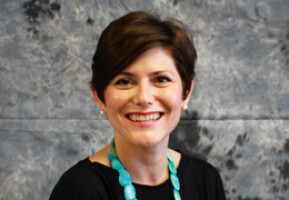 KC Crawley
Director of Children, Youth and Family Ministries
KC has been striving to "Know Christ and make Him Known," since early childhood. As a mother of four children, two preschoolers and two elementary students, she can identify with all of the joys and challenges of raising kids. KC takes great joy in helping children, and their parents, to learn about Christ and nurture their faith.

KC has previously served Presbyterian and Episcopal churches in North and South Carolina as a Youth Minister and as Director of Christian Education. She and her husband Frank became members of Holy Trinity when they moved to Melbourne in 2004. KC became Holy Trinity's Children's Minister in the summer of 2007. It is her great passion to help your family become a part of the Holy Trinity family!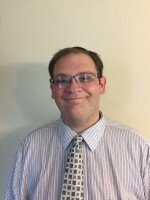 Aaron Cain began as Children's Ministry Assistant in September of 2018. Aaron began working with children while still in high school, volunteering in the nursery at church. He has worked with all age groups from toddlers to high schoolers. He has most recently been a volunteer with Holy Trinity's youth group. Aaron joined Holy Trinity in 2014. He brings much experience to this position and is looking forward to watching our children grow in their love of Christ and each other.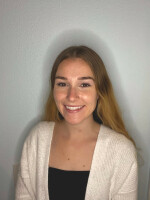 Gabrielle Knoblock
Youth Ministry Assistant
Gabrielle began as a youth ministry's assistant in 2021. She started volunteering for Holy Trinity VBS in 2011 and then Youth Group in 2019. She has also worked in the nursery for us in the past. She has a love for creating activities for children and helping them grow deeper in their faith. She is currently studying at Seminole State College in Orlando and is planning on being a teacher as well as an interior designer.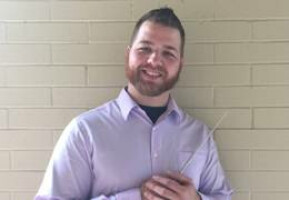 A gifted multi-instrumentalist, songwriter, and vocalist, Justin has been playing on worship teams for over 15 years. He is always excited to lead people into the atmosphere of adoration and worship; where they can experience God's love and mercy.

Justin is a Melbourne native and graduated from Eau Gallie High School where he is still involved in the band program, along with many other band programs throughout Brevard county. He received his Bachelor's degree in Music Education from the University of South Florida. After graduating USF, Justin spent one year in the masters program at Northern Arizona University in Flagstaff, Arizona. In 2013, Justin received his Master of Arts in Ministerial Leadership from Southeastern University. He has 3 children, Skyler, Aria, and Jack. Justin enjoys following collegiate and professional sports when he's not performing or teaching.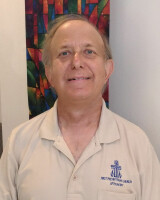 Tom Glew
Organist, 7:30am Service
Tom is a retired engineer from L3Harris. Tom began playing the organ for Holy Trinity in September of 2021. He is a talented musician, and in addition to playing the organ, he plays multiple instruments.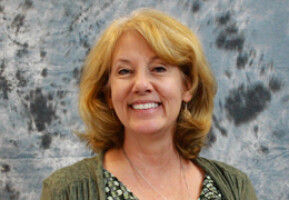 Eloise Evans, the Family Choir and Trinity Ringers Director, is a graduate of the University of Oklahoma where she studied music, theatre and psychology. A member of Indialantic Chamber Singers, Eloise is Director of Theatre Arts at Viera High School where she was a part of the original team that opened the school in 2006.

She previously served at Holy Trinity as Youth Leader, Christian Education Coordinator, Children's Choir Director, Dance Choir Director and Family and Chancel Choir member and substitute director. She also taught music, chorus and theatre at Holy Trinity Episcopal Academy, and served as church musician at Hope, Church of Our Savior and St. John's Episcopal Churches.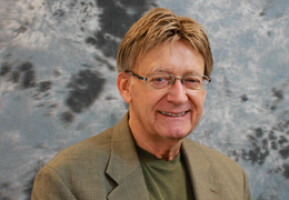 David Vogeding
Organist, 9:00am Service
David obtained organ performance degrees from West Virginia University and the University of Oklahoma. He recently retired as the Director of Music at Eastminster Presbyterian Church in Indialantic, and he served as Organist/Choirmaster for 20 years at St. Andrew's Episcopal Church in Missouri. He is Director Emeritus of the Indialantic Chamber Singers, a vocal chamber ensemble which he founded in 1999.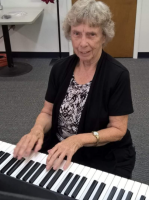 Overda Stonerock
Organist/Pianist, 11:15am Service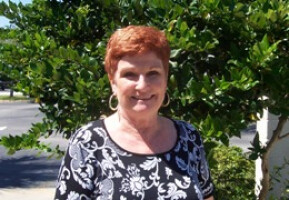 Sharon began working at Holy Trinity in 2012. She is serving as one of the Parish Secretaries, working the front desk with phone duties, coordinating the facility schedule with church and school activities, updating prayer lists, informing the hospital visitors of parishioners who are in the hospital, contacting guild team leaders for weddings and funerals, and attending to any other need that arises.

Sharon recently retired from Brevard Public Schools after teaching at Manatee Elementary for six years as the music teacher. She taught in Tennessee and Virginia before moving to Florida in 2003. She has a BS in Music Education from The University of Tennessee in Knoxville. She was a band director for 19 years, working with younger students and preparing them for high school band, and changed to elementary music for the last 19 years of her career.

Sharon is a member of the Indialantic Chamber Singers. She enjoys cruising with her husband Vern, and looks forward to cruising more often (especially since she doesn't have to prepare lesson plans anymore!).

She enjoys meeting everyone in her capacity at the front desk.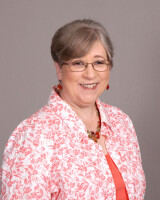 Amy and her family moved to Melbourne from North Carolina in late 2013. We found our church home with Holy Trinity in January 2014. She feels so blessed and honored to serve as Holy Trinity's Parish Co-Secretary.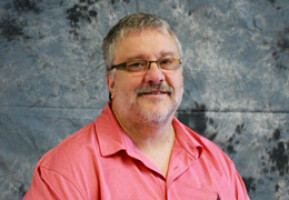 Keith and his family moved to the Melbourne area in late 2013 and began attending Holy Trinity in January 2014. He has worked in many capacities within his previous church over the years and spent the last 8 years as Business Manager for that church in North Carolina. He and his wife, Amy, and their son, Aaron, feel blessed to have become a part of the Holy Trinity family.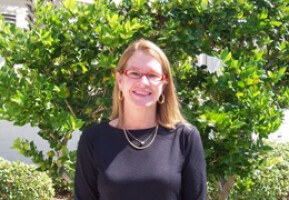 Patti began working at Holy Trinity in April of 2008. In her position as Connections Coordinator she produces all of the worship materials, including bulletins and PowerPoint presentations, maintains the church's computer network, and handles all communications, advertising and marketing for the church.

In addition to her ministry here, she also serves as the Director of Music at the First Presbyterian Church of Palm Bay where she has been since 1997. She has a B.S. in Economics from State University of New York at Stony Brook, a B.A. in Music from University of California at Northridge, and did her Master of Music studies in Choral Conducting at University of Missouri Kansas City.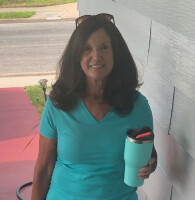 Stephanie began her position as Thrift Shop Manager in July 2022. She grew up in NY and was Baptized and Confirmed at St John's Episcopal Church in Huntington, NY. She and her husband have 5 children between them and 10 grandchildren.
She has extensive experience in business, both in sales and marketing. Her most recent position was as print publisher of two neighborhood magazines while we lived in Columbia. She has always been very active in the church and in volunteering for non-profits, and worked at the Junior League Thrift Shop in Daytona Beach for years.
She has volunteered in many ways at church. She was the Alpha leader at her church, worked with the children at vacation Bible school, facilitated Disciple Bible Studies, and chaired a committee for adult Bible school. She also taught a Confirmation class and was chair of their Mission Committee.
Stephanie is thrilled to be the new manager of the Holy Trinity Thrift Shop. Please stop in to meet her, better yet come in and volunteer!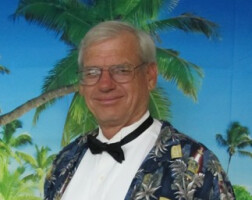 Dale Pierce
Facilities Manager
Dale began his ministry at Holy Trinity as Facilities Manager in January 2018.
VESTRY MEMBERS:
Pete Soloway '23: Sr. Warden, Newcomer Ministry
Steve Russell '24: Jr. Warden
Mike Crews '25: Treasurer
Art Dubois '23: Clerk
Heather Goodwin '23: Volunteer Appreciation
Susie Kilgallin '23: Children, Youth, Family and Newcomer Ministries
Kerry Grant '24: Stewardship
Jackie Menzel '24: Decorating for Special Occasions
Richard Warren '24: Special Projects
Chris Arter '25: Hospitality
Frank Christopian '25: HTEA
Nicole DeCaro '25: Thrift Shop