Welcome to HOLY TRINITY
Welcome to Holy Trinity, we're glad you're here! You may be reading this because you are in the process of searching for a church. We look forward to meeting you in person.

On the website you will find newsletters and announcements, sermons, and information on our many ministries for people of all ages. You can learn a lot about what we do here at Holy Trinity, but in reality we are so much more. We are a family of real people, with real problems and real joys. We are a family that is genuinely interested in new people, but the only way to know that is to experience it. So we hope you will come and see for yourself that Holy Trinity seeks "to know Christ and to make Him known."
As you discover the Holy Trinity family, we pray that God will bless you and fill you with the Holy Spirit to help you with the stresses and burdens of daily life. May God guide you into a life of meaning and purpose and surround you with loving care that you may find refreshment.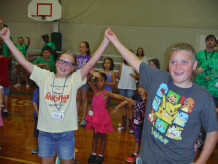 Please browse the pages of our website and feel free to call the church office (321-723-5272) with your questions.
We would love to see you soon!