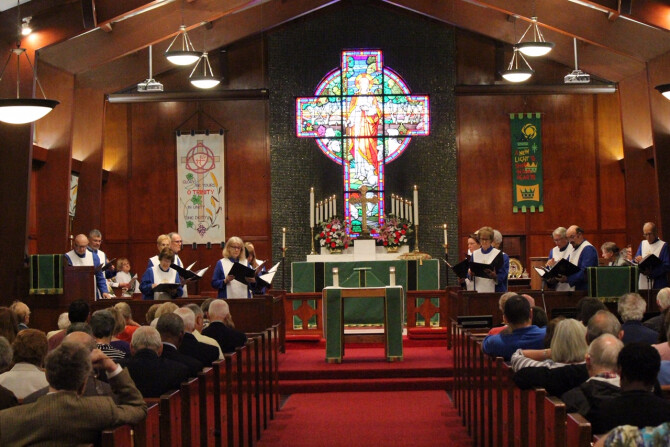 At Holy Trinity our worship services all follow The Book of Common Prayer. Each of our worship times offers a unique style, ranging from very traditional to contemporary. No matter what the style, our goal is always to lift people into the presence of God through Word and Sacrament. We strive for excellent music and sermons that relate the Bible to our everyday lives.
SATURDAY 5:00PM
This is a casual service with a relaxed, contemporary style. The music is led by Accidental Grace, a praise group with piano, guitar, bass, and vocals. The order of worship follows Rite II in The Book of Common Prayer, but projection screens make it easy to participate. This service is held in the church. The Saturday 5:00pm service has something new coming! Beginning August 13 the Kenyan Eucharistic Service will be used. It has more interactive responses which draws you into a closer worship experience.
SUNDAY 7:30AM
This is a quiet, traditional service. We use Rite I from The Book of Common Prayer and sing two well-known hymns. This service is held in the church.
SUNDAY 9:00AM
This is our most popular service, and it is held in the church. We use Rite II from The Book of Common Prayer. The music is a blend of traditional hymns and praise music. The Family Choir leads the music. Nursery care is provided for young children. Sunday School, Youth Group, Adult Forums and Coffee Hour all take place immediately following this service.

SUNDAY 11:15AM
This service is Holy Eucharist Rite 1 and takes place in our historic chapel. The historic chapel is the oldest building in the city of Melbourne in continuous use. It is a lovely prayer-filled space, revitalized in 2019. Music is mostly traditional hymns on organ and piano.
wednesday 11:00am healing service
Wednesday Healing Service with Eucharist in the Historic Chapel at 11:00am starting August 17. It is a great service where you can "come boldly before the throne of God to receive mercy."