For information about any of the following programs, e-mail Director of Children, Youth and Family Ministries, KC Crawley.
SUNDAY SCHOOL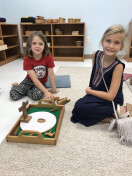 In our Children's Sunday School program, we use the Godly Play method as a foundation for teaching the stories of our faith. To reinforce Bible stories, we utilize a center rotation style of learning which includes experiencing stories through crafts, music, cooking, science, drama and more! Check out our weekly announcement sheet and join our Facebook group to stay up to date on the latest information. We will always follow current COVID-19 protocols because we are committed to providing a safe learning environment. You may register for the 2021/2022 Sunday School year HERE.
VACATION BIBLE SCHOOL


Every summer, Holy Trinity's Children's Ministry holds a Vacation Bible School packed with games, crafts, music, fun and great Bible teachings.
NURSERY
Holy Trinity's nursery is open from 8:30am to 11:15am on Sundays. Infants and toddlers are welcome to play in the nursery while their families participate in worship and Sunday school. Our nursery is conveniently located just off the Gallery. Our toddler room, equipped with an art center and imaginative play area, is just inside the entrance to the nursery. In the crib room you will find a peaceful area for babies to sleep and a calm area for nursing. There is also a special area designed for babies who are crawling. Nursery care for children is also available during other parish events, if requested in advance. Holy Trinity will always follow current COVID-19 protocols because we are committed to providing a safe and loving environment for our littlest members.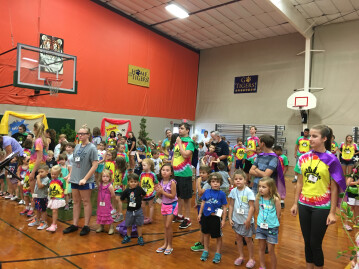 CAMP WINGMANN
Camp Wingmann is a beautiful and holy place set aside for children, youth and adults in the hope that they will meet Jesus and grow in their faith. Our desire is for our participants to discover that Christianity is fun and that the most important thing they can do is put Christ at the center of their lives. For more information, visit their WEBSITE.