For information about any of the following programs, e-mail Director of Children, Youth and Family Ministries, KC Crawley.
GODLY PLAY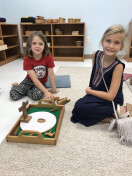 What is Godly Play?
- Godly Play is a creative, imaginative approach to Christian formation and spiritual guidance founded on 40+ years of research and practice.
- Godly Play allows practitioners to make relevant and personal theological meaning.
- Godly Play nurtures participants to larger dimensions of belief and faith through wondering and play.
- Godly Play at Holy Trinity invites ALL children, Pre-K through 6th grade to interact with the stories of the Bible on Sundays at 10:30am on the 2nd floor of Pearson Hall.
VACATION BIBLE SCHOOL


Every summer, Holy Trinity's Children's Ministry holds a Vacation Bible School packed with games, crafts, music, fun and great Bible teachings.
NURSERY
Holy Trinity's nursery is open from 8:30am to 11:15am on Sundays. Infants and toddlers are welcome to play in the nursery while their families participate in worship and Sunday school. Our nursery is conveniently located just off the Gallery. Our toddler room, equipped with an art center and imaginative play area, is just inside the entrance to the nursery. In the crib room you will find a peaceful area for babies to sleep and a calm area for nursing. There is also a special area designed for babies who are crawling. Nursery care for children is also available during other parish events, if requested in advance. Holy Trinity will always follow current COVID-19 protocols because we are committed to providing a safe and loving environment for our littlest members.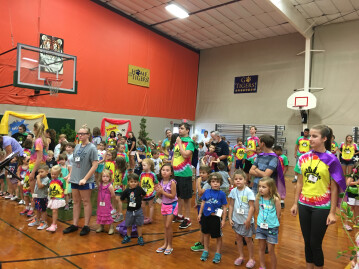 CAMP WINGMANN
Camp Wingmann is a beautiful and holy place set aside for children, youth and adults in the hope that they will meet Jesus and grow in their faith. Our desire is for our participants to discover that Christianity is fun and that the most important thing they can do is put Christ at the center of their lives. For more information, visit their WEBSITE.