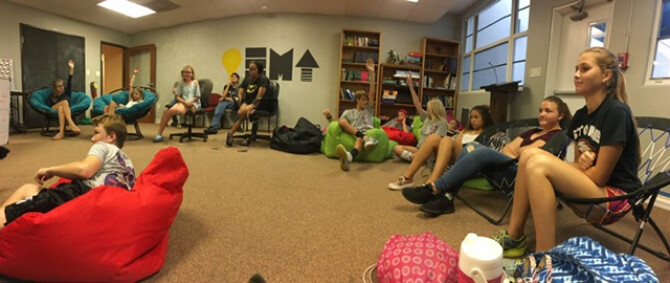 For more information about any of these programs, e-mail Director of Children, Youth and Family Ministries, KC Crawley.
YOUTH GROUP: Sundays at 10:30am, Lewis Hall / Wednesdays at 6:30pm, Lewis Hall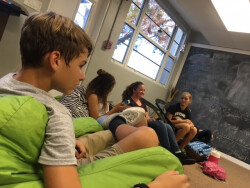 The goal of Holy Trinity's Youth Ministry is to partner with families to shepherd and disciple teenagers into a deep relationship with God. It is our hope that this ministry will help students develop a life-long faith and equip them to share God's love throughout the world!
Sunday Youth Bible Study! Students in grades 7 – 12, join your friends in Lewis Hall at 10:30am for fellowship, prayer and to discuss the scripture readings from the service. We meet from 10:30 – 11:30am each Sunday. For more information contact KC Crawley or Gabi Knoblock.
Youth Group for youth in grades 7 – 12 are invited to join us on Wednesdays from 6:30-8pm in Lewis Hall. We enjoy a quick dinner followed by fellowship, activities, and Bible study time. Come check us out! For more information contact KC Crawley or Gabi Knoblock.
NEW "Jesus Journey" Youth Bible Study! Join your youth group friends for a deeper study of Matthew. We will meet from 11:45am -12:30pm on Sundays starting August 14, 2022 in Lewis Hall. Each week we will have a light lunch after Youth Sunday School and then dig into God's Word. Cost is $10/person which will cover a personal copy of the Jesus Journey Bible, book of Matthew. Contact KC Crawley or Gabi Knoblock to sign up!
The Youth Group also loves getting involved in different events and activities, including Rock the Universe at Universal Studios, and Diocesan events such as New Beginnings. There is also a great desire to participate in different outreach projects and missions. The Youth Group also host the annual Shrove Tuesday Pancake Supper every year.
Get CONNECTED! Follow us on social media: Facebook and on Instagram. To join our GroupMe group chat, contact KC Crawley or Gabi Knoblock.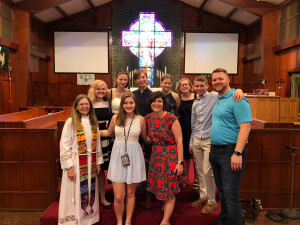 CAMP WINGMANN
Camp Wingmann is the site of a wonderful Summer Church Camp Program for the Episcopal Diocese of Central Florida, a center for Diocesan youth activities and a beautiful year-round retreat center for all types of groups. The camp's mission is to be "A Fun Place for Kids to Know and Grow in Christ." For the dates of upcoming summer camp sessions (rising 3rd graders through high school), go to their WEBSITE or contact the church office.